It's been raining almost everyday here lately, especially in the evenings. Last weekend, as usual, we were out and about and were caught in a sudden rain shower. The rain does not much bother Nikolai or my hubby is seems, but I tend to get headaches when I get wet in the rain and I have no idea as to why.
Anyway, with this bit of inspiration, I made a simple umbrella themed school lunch for Nikolai, packed it in his
Lego lunchbox,
and I like the
lego mini box
which fits nicely in the center of the larger box.
The sandwich is easy to make, I just removed the crust from the whole wheat bread, and used a small circle cookie cutter to shape the umbrella and a small teardrop cookie cutter for raindrops. A second umbrella was made by using half of a Babybel cheese, with the red wax coating trimmed to make the design and an umbrella handle food pick.
In this bento lunch:
Sandwich with cheese umbrella and raindrops decoration.
Babybel Gouda cheese in umbrella design.
Sugar-snap peas.
Black grapes.
Goldfish crackers in the smaller Lego container.
Linked to: BentoLunch.net
Here are the supplies that I used to create and pack this lunch.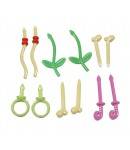 This post contains affiliate links. If you purchase a product through an affiliate link, your cost will be the same but Bento School Lunches will automatically receive a small commission. Your support is greatly appreciated.
Let's Stay Connected!